See below for past event's info;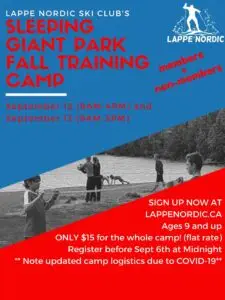 Sept 12 (9am – 4pm) and Sept 13 (9am – 3pm) 2020. 
Members and non-members welcome! Ages 9 and up (as of Dec 31 2020).
CHANGES to camp as of Aug 27 2020:
Although the Sleeping Giant Provincial Park will likely allow group camping this fall, we are not comfortable with our ability to maintain physical distances in a 3 day overnight setting. We want to limit prolonged and intentional contact per the government guidelines. As a result, we have modified the camp format to not include a group overnight stay at the park. We are disappointed with this decision, but feel it is in the best interest of our families.
Instead, we will offer a 2 day camp. Both days will be held at Sleeping Giant Provincial Park. Day 1 will be from 9:00 am and to 4:00 pm and will have the following approximate format: Arrival, Session 1, Group Chat, Session 2, Swim.  Day 2 will begin at 9:00 am and include a longer day on the trails. The end time will be flexible, but likely between 2:00 pm and 3:00 pm.
We ask each family to either return to Thunder Bay, or arrange their own accommodation/camping at the park. The cost of the camp will be $15 per participant.
Park parking permits ($15.50/ day) can be purchased from the Park directly for each vehicle staying at the Park.
The 9 to 12 year old group will be led by Brook Latimer, and the 12 and up group (including masters) will be led by Eric Bailey.
To Bring:
3 or more litres of water and one container to carry with you
all the food you will need for the day
a watch
a change of training outfits for the afternoon
change of clothes for after training
sun hat, sun glasses, sunscreen,
rain gear
towel and swimwear
running shoes (2 pairs if you have them)
ski walking poles
warm clothes if forecast calls for it (gloves, toque, jacket..)
notebook/ notepad and something to write with
a mat to exercise on (yoga, foam, tarp, towels)

Likely For Sunday (12 and under): Bicycle, helmet, lock, a way to carry your snack and water
Please email lappenordic@gmail.com for any questions.