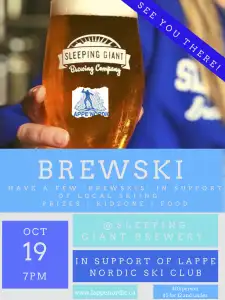 This event is cancelled for 2020
See below for info from the 2019 event
THANK YOU TO ALL WHO ATTENDED!  What a fun night!!
THANK YOU TO OUR AMAZING VOLUNTEERS!  A seamless event with many hands making light work.
THANK YOU SPONSORS!
Fresh Air, Seek Adventures & Tours, The Keg, Caribou Restaurant and Wine Bar, Magnus Theatre, The Thunder Bay Symphony Orchestra, PUSH fitness, Fringe Hair Studio, Stella Wax Bar, Winterface, Boulder Bear, Dolce Coffee-house, The Bean Fiend, Catalyst Coaching, Sleeping Giant Brewery, Lappe Ski Center, Thunder Bay Nordic Trails, Melesa Have Pottery, Sarah Link Pottery, Up at Dawn Pottery, Dog Lake Firewood, Rollin' Thunder, Fast and Female, Werner Schwar Landscaping, UpRiver Running, Jodi Hall, Susan Fabius, Fiona McKenna, Davis Viehbeck, Laura Jamsa, Jenn Vandamme, Sam Niemi Designs.
WINNING TICKETS!!
If you couldn't stay until the 10:30pm draw you may still be in luck if you held on to your tickets.  Pick up of prizes, WITH your winning ticket will be at the Lappe Open House Nov. 2. Here are the winning ticket numbers for the unclaimed prizes from the event:
Red Arm-length Raffle Tickets
#4 Pottery (Up at Dawn and Sarah Link): #109635
#6 Fast and Female: #109678
#7 Lappe Ski Club Package: #109564
#9 Firewood: #109808
#10 Firewood: #109136
#12 Fun Outside (Kids): #109761
#13 Prize Box: #109405
#14 For all you adventures: # 109536
#15 Date Night #2: #109742
Yellow Grand Prize Tickets
OCTOBER 19, 7PM 2019
A big, fall, fun, social, fundraising event for the whole community.  All ages welcome.  There will be prizes, food and a KIDS ZONE. Tickets are $10 or $5 for 12 and under (tickets available at the door).   How many of your friends and family can you bring?
BrewSki will be a fun-filled evening to energize existing skiers and entice newcomers to try Nordic skiing. We will be raising funds to improve access to cross-country skiing for local youth.  Specifically, Lappe Nordic Ski Club's ski equipment rental fund helps us purchase youth skis, creating opportunities for those who would otherwise be unable to try this amazing sport.